What is Microsoft Teams and how to use it for your business?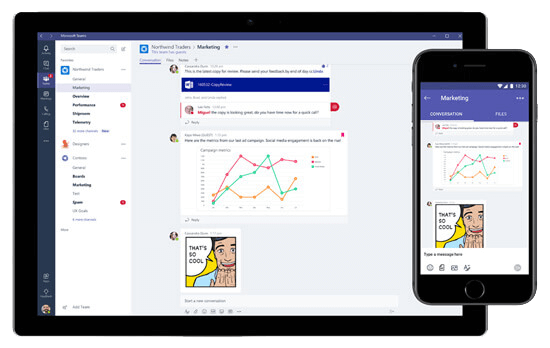 Transforming Workplace Collaboration
Microsoft Teams Integrations
Apps
Teams is fully integrated into Office 365, meaning you can connect your Excel spreadsheets and PowerPoint presentations directly into the app. The Microsoft Teams app has hundreds of integrations into third-party platforms like Twitter, Salesforce, Adobe, ZohoCRM and many more.
Multiple Devices
The smartphone has completely changed how we communicate and work, so it's important to note MS Teams is consistently available across all devices through web, desktop and mobile apps. To participate in meetings, for a desk-based user, a webcam/headset can be attached to the PC and for a mobile user the mobile app allows them to connect whilst out on the road.
Audio Visual and Video Conferencing
Businesses can also integrate it into audio visual solutions for meeting rooms and successfully merge Video Conferencing systems. There are many integration options available, from Polycom, Crestron, Yealink and more. Click here to learn more about our Microsoft Teams Video Conferencing solutions.
Give Microsoft Teams a Voice with Direct Routing
We can enable the telephony functionality​ within Teams for your business. Teams Direct Routing allow you to make and receive phone calls to or from land lines and mobile phones via the public switched telephone network (PSTN).
Arrow offers two deployment options that maximise your investments in your current telephony solution.
Find out more about Microsoft Teams. Use the contact form below.
It only takes 30 minutes to receive a MS Teams Demo from one of our Teams Experts. You can request a demo below. 
With a single solution for communications and collaboration, Teams brings back the human element of collaboration while helping people stay focused before, during and after a meeting.
What is Microsoft Teams?
Microsoft Teams is an app for teamwork in Microsoft Office 365 that brings together groups and single chats, video conferencing, meetings, calling, file storage and Office 365 all in one place.
Is Microsoft Teams Free?
Yes, it is free for personal use. For business, only the basic functions are free. For full access of the features, Microsoft Teams is included in the Microsoft 365 licence.
How does Microsoft Teams work?
Microsoft Teams combines everything you need to collaborate with your colleagues: Chat, video, file sharing, storage, meetings, real-time collaboration with office apps and more.
What is included in Microsoft Teams?
Everything you need to collaborate with your colleagues: Unlimited chat messages and search. Built-in online meetings, audio and video calling for individuals, groups, and full team meetups. 10 GB of team file storage plus 2 GB per person for personal storage.
How much is Microsoft Teams?
Microsoft Teams has a free plan. For complete access of features a Microsoft 365 licence is required.
What is Microsoft 365?
Microsoft 365 is a subscription based cloud service from Microsoft. It included Apps like Word, Excel, PowerPoint, Outlook, Teams and more. It also comes with powerful cloud services, device management, and advanced security.
Can I make phone calls with Microsoft teams?
Yes, you can use Teams to make mobile and landline calls, but only if you have Calling Plans or Direct Routing for Teams enabled.
How to set up Microsoft teams?
The easiest way for businesses to roll-out Teams is to contact a Microsoft Registered Partner. A Microsoft partner can easily implement Teams without any hassle of downtime.
How to download Microsoft teams?
You can download Microsoft Teams on this link: Teams Download