A lot of efforts are being made at the moment to ensure businesses have the tools they need to cope with a new, more digital form of communication.
But while much of the focus may be on services like data connectivity and software solutions such as Video Conferencing platforms, it's vital that firms also ensure they have the latest hardware. If you're still relying on old legacy equipment, you won't be able to make full use of all the features of a modern communications system.
That's why our new Swift by Arrow SME Solutions comes with a range of desk phones, headphones, DECT and more to meet the needs of any small and medium business.
If you're looking to re-equip your desks, make your customer service team more productive or overhaul your meeting room, you'll find a hardware option to suit your business.
The right handsets for business
At the heart of any effective communications, package are handsets – or desk phones – and these can offer much more than simple voice calls. If you only have basic needs, entry-level devices should give you all the options you need, such as PBX phone books and voicemail notifications. However, for more demanding users and those that will need to handle large volumes of calls, there are a wide range of options you can choose from.
For example, USB headset and Bluetooth compatibility may be useful to some users, while handsets that include large touchscreens can provide you with inbuilt video functionality without the need for a separate device.
Headsets that keep you in control
For users such as call centre agents, Swift offers a variety of headsets that keep your productivity high, and can be tailored to meet your requirements. For instance, you can choose from monaural or binaural devices, take advantage of noise-cancelling technology or add LEDs that can show an agent's status, such as whether they are online, on a call or are in do not disturb mode.
You can even take advantage of Bluetooth technology to go completely wireless, freeing up users to move around without being encumbered by cables.
Tools to transform your meeting rooms
Away from users' desks, Swift also offers a selection of conferencing hardware to help modernise your meeting rooms and make these activities more productive. As more firms embrace remote working, being able to ensure those in the office and those at home can connect seamlessly is vital.
A good webcam is essential for this. These should offer high-definition quality and a wide field of view, as well as a 360-degree microphone so that no matter where in the room a participant is, they will be able to fully contribute. This should be combined with large display screens.
Swift can connect you with up to three monitors and related accessories to ensure you get the best possible Video Conferencing experience.
Specialist hardware
Finally, we can also provide specialist hardware for use in locations that have unique requirements. For example, for use in clinical settings, we can provide the Swift AIRMED DECT solution, which uses a rugged design with an antibacterial coating to protect your health as well as your business.
4g Backup – DaySaver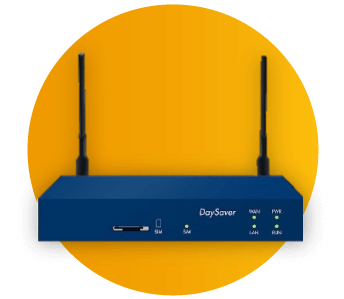 The Daysaver is a 4G based backup that kicks in within seconds of a broadband outage so you don't lose your vital phone lines. It can be used as a backup for Cloud PBX, as a backup for the cable Internet connection or even as the only Internet access for small offices.
Daysaver also adds the facility to receive and send SMS from your Swift system. Another way to talk to your customers from one platform.
Get in touch today to find out more about the range of hardware options available with Swift by Arrow and see which ones your firm can benefit from.
Download Swift Brochure
Do you want to find out more about the Swift Hardware?
Download the Swift Brochure now

Find out more about Swift:

With over 25 years in the business telecoms industry and an unrivalled reputation of delivering excellent, personal customer service, Arrow is one of very few companies in the UK able to provide a full telecoms, IT and energy consultancy and service proposition.
Case Studies