Meeting Room Audio Visual Solutions
Audio Visual Solutions transform the way your staff work and communicate
Our AV solutions improve the way you do business creating dynamic presentation facilities with large screens and clear audio. We take care of everything for you, from AV project briefing to AV installation
The Auditorium space for any company is the centrepiece of its facilities. A space where employees and visitors come together. A space where functionality is key. Whether you are a hospital delivering multidisciplinary team meetings, a university delivering lectures or a corporate company using it as an event space you are all looking for the same thing, reliability.
We know that every auditorium requires different functionality and ranges in size. Arrow can fulfil your requirements from state-of-the-art projection, large displays, integrated video conferencing, lighting, sound and microphone solutions.
Some areas to think about when you are setting up an auditorium are:
Sound – how to ensure your audience can hear the speaker and the content

Presentation – how your speakers and audience can share content.

Display – how to ensure that all content is visible to all audience members

Microphones – how will the room function and who will be speaking

Lighting – what atmosphere are you trying to build
Contact us to receive a FREE consultation:
Reshaping the workspace
Post-lockdown
Audio Visual and Video Conferencing tools have changed our relationship with the office and remote working
Download the ESSENTIAL GUIDE to learn about the changes that are happening to the workplace and how to adjust your business to the new environment.
In the essential guide  "The future of AV in the office" you will learn:
Is the office dead? What is the future of the workplace?
How to successfully have face-to-face meetings.
Reimagining the office layout after COVID.
Why 76% of people avoid the office to get important work done.
How to enable employees to have a better work-life balance.
Get exclusive access to this Essential Guide
The boardroom is at the heart of a company. Important decisions are made, senior management collaborate and important suppliers and customers are introduced to your organisation.
By choosing Arrow Business Communications you benefit from our extensive experience in integrating AV Solutions that allow you to maximise your budget and ensure that you get all the functionality your boardroom needs.
A boardroom, whilst being one of the most important spaces in your company should still be easy to use and maintain design consistencies with other meeting rooms and audio visual services.
What to consider when thinking about a new boardroom:
Control – how  will you operate the equipment in the room e.g. blinds, sources, video and audio conferencing?
Presentation – how will the content be viewed by audiences both in the room and located elsewhere?
Display – is the display big enough for the room and at the right resolution? Do you need projection?
Video Conferencing – what is the right solution for the room? Do you need to integrate it with Microsoft Teams?
Audio Conferencing –  how do you equip the room to ensure that all participants can be heard and are able to contribute clearly?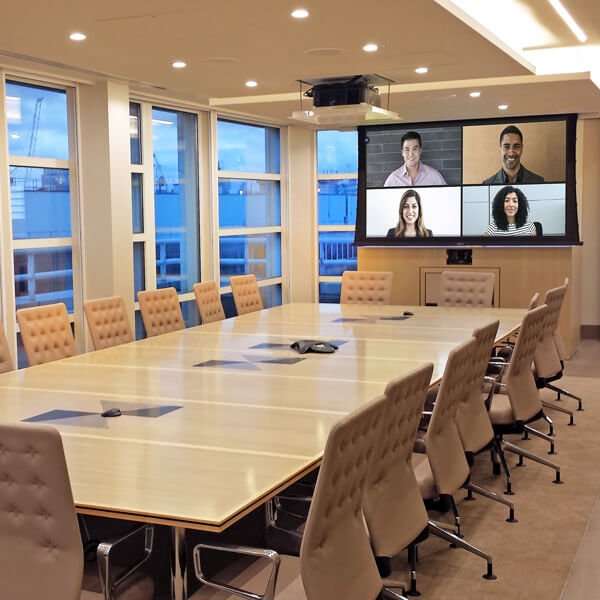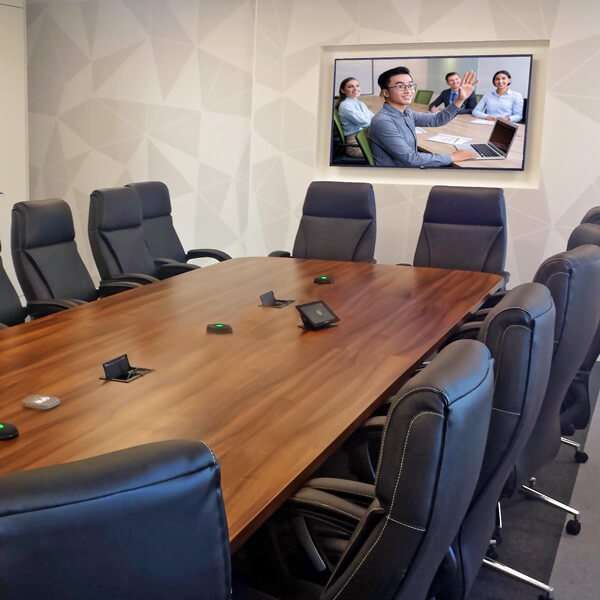 Contact us to receive a FREE consultation:
Click here to learn more about AV Technologies
Arrow was chosen by British American Tobacco (BAT) to conceptualise and implement the audio-visual and video conferencing technologies for their new office in Chiswick Park, London.
Reception areas and lobbies are where first impressions are made. Guests are introduced to your company and perceptions are formed. With AV these areas can be transformed and energised into spaces that connect, communicate and create impact.
Communal areas are usually the first place that customers and guests will interact when visiting your office. These areas introduce and reinforce your culture both to your employees and visitors. With a professional audio visual solution you can transform your welcome areas into places where your employees feel empowered, your visitors feel informed and your company stands out.
Consider the following the next time you walk into your reception area:
Reception signage: Visitor information and infographics
Communal audio: Radio, announcements or music
Departmental signage: Updates, sales figures or ongoing projects
Video walls: Transport updates, office maps, company branding or marketing contents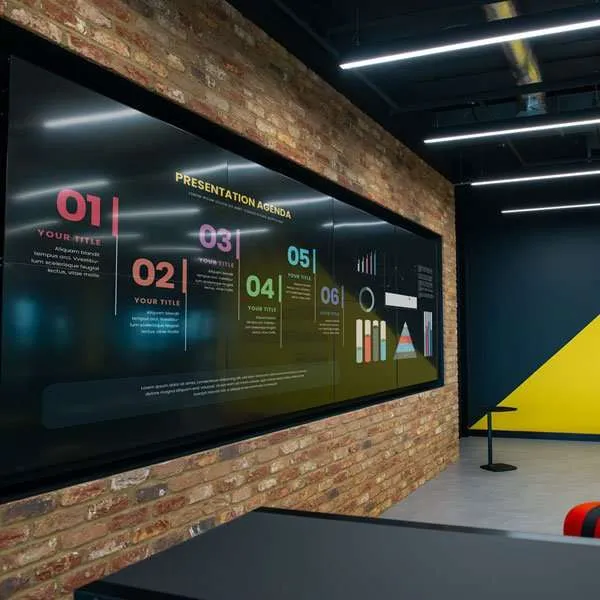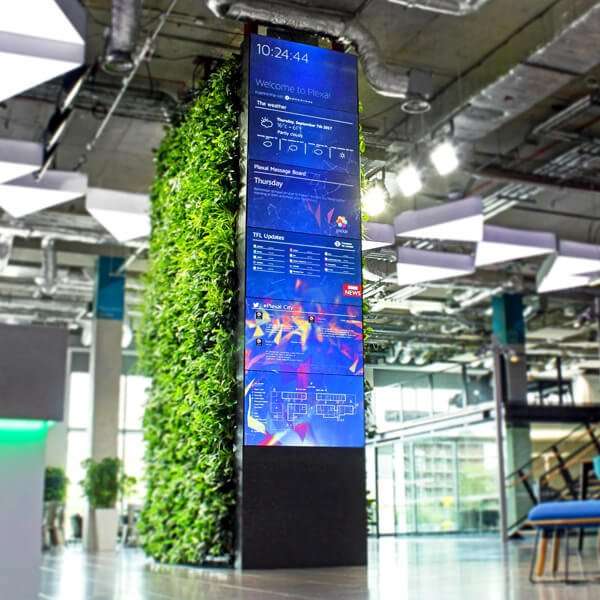 Contact us to receive a FREE consultation:
Arrow has extensive experience of implementing AV Solutions into healthcare environments. From dedicated Multi Disciplinary Team (MDT) rooms, lecture theatres and control centres to education rooms, meeting rooms and small huddle spaces; Healthcare offers its own unique challenges.
Time is precious and every solution we put into a healthcare setting is designed to have the following characteristics in mind: reliability, ease of use, security and interoperability.
By following this mantra we ensure that no matter the space or the size of the audience your solution will be cost effective and will work for everyone involved.
We take our role in the healthcare market very seriously and as such we ensure the following is in place to make your journey with us easier:
Referenceable
Registered as a Supplier on G-Cloud 10
An active member on the HSSF Framework under Arden and GEM CSU
We employ a Clinical Director to ensure our services always fulfil the expectations of the Healthcare market
Learn More about ClineCall our Healthcare Video Consultation solution:
Arrow AV & VC Case Study - AIC The Association of Investment Companies
Watch the video case study on how Arrow transformed AIC's meeting room into a multi-functional and collaborative workspace.
Be proud of inviting clients to your offices. A meeting room just isn't a meeting room without an integrated AV solution. AV transforms your meeting rooms into interactive areas with dynamic tools for improving communication, productivity and professionalism in your business.
Giving your meeting rooms a fully immersive AV experience will transform the way your business communicates with employees and customers. Whether you have a single meeting room or wish to integrate multiple audio visual systems we have solutions to enhance sound, vision and give a professional and seamless experience in every environment.
A meeting room system will typically consist of display screens, content sharing ability and hardware to ensure audio is crystal clear.
Your meeting room can be transformed by:
One-click wireless sharing – no more unsightly cables
A single control panel for lights, screens and cameras
A room booking system using Outlook integration and a room door tablet
Contact us to discuss the endless possibilities of AV in your meeting room.
We use world-leading suppliers of AV equipment. 
Arrow works with best of breed suppliers and will work closely with you to ensure you receive unbiased advice and the best technology for your requirements. 
Learn More about the Technologies we use in AV:
Arrow not only listened to our requirements and recommended the product but also managed the implementation into all our stores very efficiently. Their knowledge and support continues to be invaluable.
AV transforms your meeting rooms into areas interactive, dynamic tools for improving communication, productivity and professionalism in your business.
Complete the form below to receive a free AV consultation: